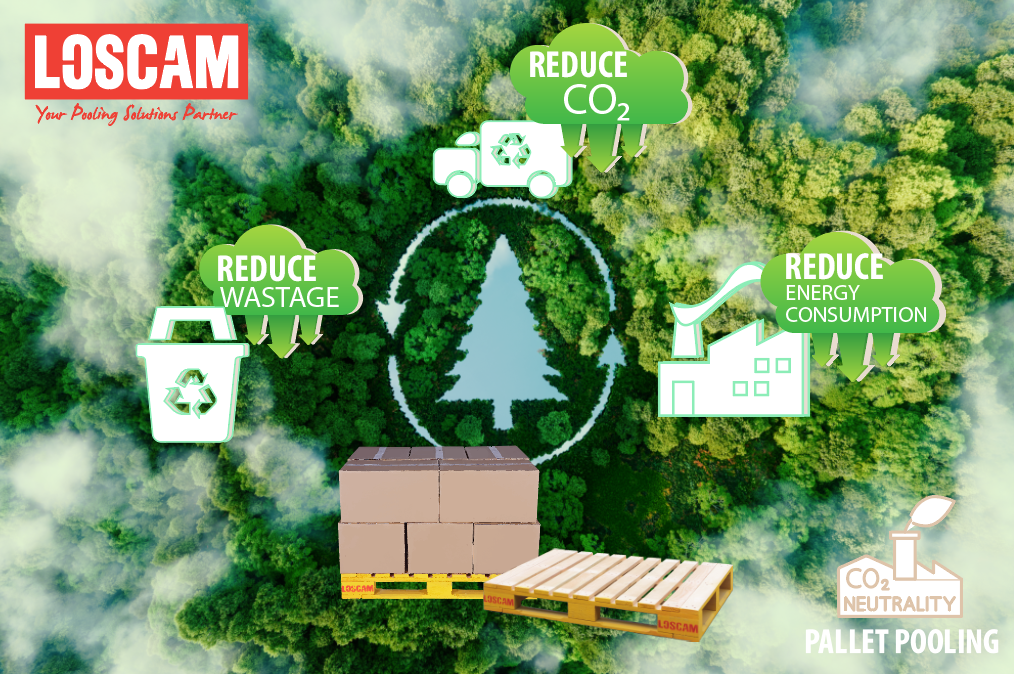 The timber of Loscam's wooden pallet comes from FSC certified plantations which is a low-carbon, environmentally friendly, and sustainable logistic packaging
The following article is from China Logistics and Purchasing Magazine, author Zhang Yingchuan.
Under the "Carbon Peak and Neutrality" strategy, the logistics industry as a "major carbon emitter" has carried out consecutive Supply-Side Reforms, such as optimising the supply chain structure, promoting standardised packaging and pooling solutions, initiating eco-friendly packaging, As well as pushing for the use of new energy logistic vehicles in more applications. These initiatives are imperative to expedite the logistics industry sector for low-carbon development and build a green supply chain that is sustainable for upstream and downstream businesses.
LOSCAM positions as a leading logistic packaging pooling solutions provider in Asia-Pacific, we are dedicated to exploring the scope for reducing carbon emissions, focusing on standardised reusable pallet pooling and palletised solutions as our primary mission. By providing our unique pooling and returnable packaging solutions to different sectors of the supply chain, it effectively improves the efficiency of cargo handling and DC operations between all sections in the supply chain, in addition to reducing goods damage and logistics costs. As a result, it helps manufacturers, retailers, logistics, and other companies to achieve saving energy, reduce emissions, and optimise the supply chain, which has established a benchmark in the field of standardised logistic packaging.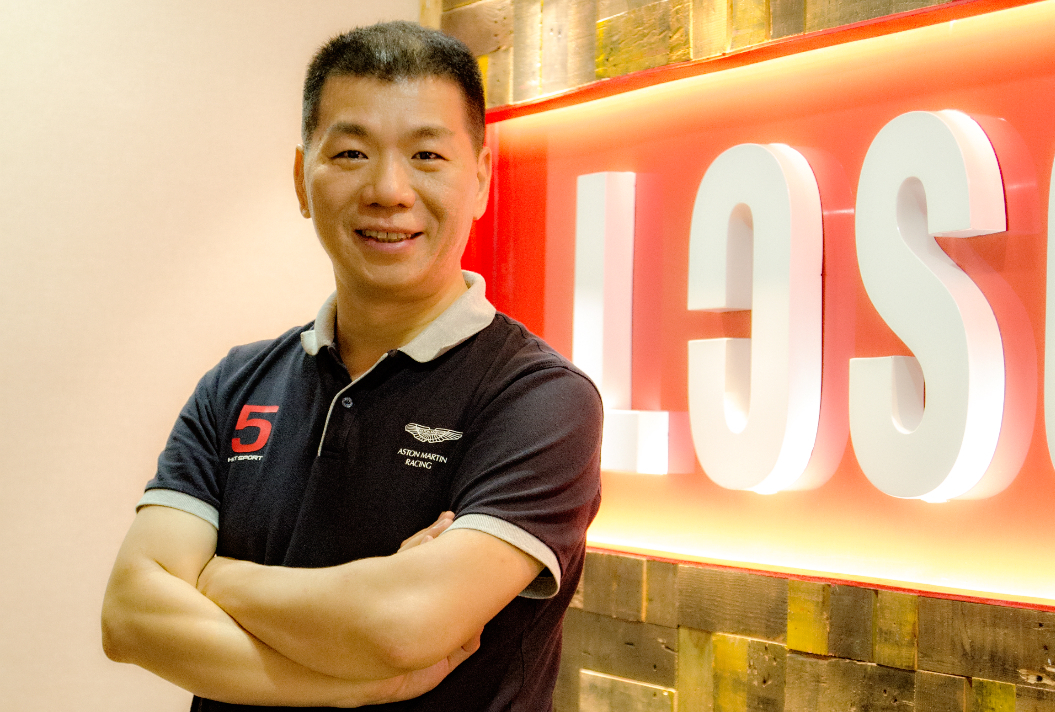 Mr. Scott Chi, Senior Director of Business Development of Loscam Greater China
Pallet pooling is in line with the carbon peak and neutrality goal.
In a discussion about the core value of promoting the development of "carbon peak and neutrality", Scott Chi, the Senior Director of Business Development at Loscam Greater China, shared his thoughts with the reporter of the China Logistics and Purchasing Magazine, "In recent years, various sectors have to deal with industrial restructuring. The demographic dividend is progressively disappearing and the cost of resources has continued to rise in various aspects, including manpower, land, transportation, and storage. We are at the right time to incorporate the goal of peaking carbon and achieving carbon neutrality. The Logistics Industry's core value lies in its ability to save resources, reduce costs, optimise the industrial structure, and accelerate to improve the entire supply chain quality and efficiency. It also accelerates high-quality and sustainable development of the logistic industry."
As Scott Chi sees it, accelerating standardised pallet pooling fits extremely well with the carbon peak and neutrality goals:
On the one hand, compared to one-way pallets, the pooled wooden pallets through continuous reuse, significantly resulted in less consumption of raw materials, extended the wooden pallet lifespan, and reduced wastage of resources. On the other hand, the timber of Loscam's wooden pallet comes from FSC certified plantations, the wooden pallet itself is low-carbon, environmentally friendly, and sustainable.
Additionally, the standardised pallet and other returnable equipment are used primarily for palletised shipping, and are widely used in various sectors such as fast-moving consumer goods, e-commerce, and the new emerging "community group buying". It significantly improves the cargo transport delivery efficiency and brings green benefits to companies, such as saving inventory storage space, improving vehicle energy-saving, and emission-reducing, as well as helping companies to reduce supply chain costs and improve efficiency.
Let's look at the consumer goods sector as an example. Consumer demand for goods gradually becoming more diversified and personalized, which results in small batches, fragmentation, and high frequency orders. Undoubtedly increase suppliers' transportation costs and indirectly impact retailers' restock times, facing the pressure of insufficient inventory. Moreover, for fast-moving consumer goods companies, apart from maintaining competitiveness in products and marketing, the importance of supply chains and logistics systems is rapidly increasing, it is not only playing a crucial role in improving service quality and operational efficiency to support the production and sales, but also they have to face the pressure on the rising rents of warehouse and labor costs. As a result, building an efficient supply chain system is increasingly critical for fast-moving consumer goods companies as one of the key elements of building their core competencies.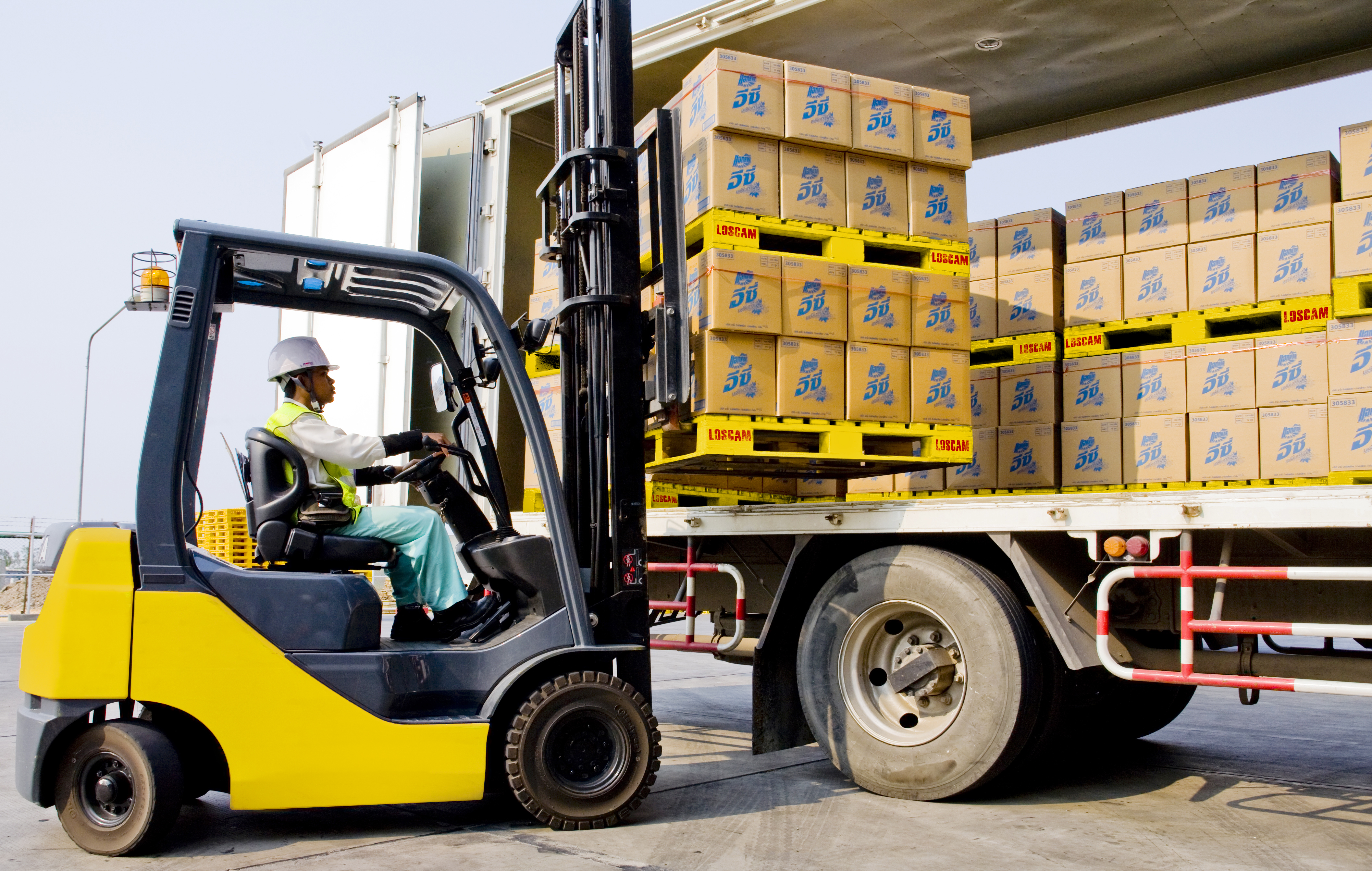 Palletised Transportation highly improves the efficiency of cargo handling
Scott Chi examined the value of pallet pooling, "for upstream manufacturers in a fast-moving consumer goods industry, they no longer have to shoulder the costs of buying pallets, and any manual handling, and loading and unloading that may involve after receipt of goods, while for the downstream retailer companies, different suppliers are pooling standardised pallets, which it can avoid repalletising at receiving, increasing the efficiency of cargo handlings. With products moving in and out at a rapid pace, it can significantly maximize the capacity of warehouse space, improve the utilization of docks as well as decrease the cost of pallets used. Essentially, for logistics enterprises, improving the efficiency of cargo handling can effectively improve vehicle turnover rate, building connections with multiple clients can deepen integration of logistics resources between the supply chain partners, reduce idle, and maximise the utilitisation of backhauls, Milkrun and highly efficient large-scale cross-docking."
We can also look at the e-commerce industry as another example. The unprecedented growth in e-commerce industry with high-frequency large-scale product circulations drives the demand for pallets on a significant scale. In particular, during the sales peak season like Double 11, 6.18 and Chinese Spring Festival, the demand for short-term pallet rental is excessively concentrated and caused a severe problem in disequilibrium between demand and supply. It further strengthens the collaboration between the industry peers, idle asset, works together in various ways in order to meet the market demands. Given the circumstances, standardised pallet pooling becoming an effective solution. Pooling standardised returnable logistic containers (including standard pallets and fresh produce crates etc.) are vital for Loscam to expedite the containers industry advance the logistic packaging products, to promote the development of low-carbon green logistics.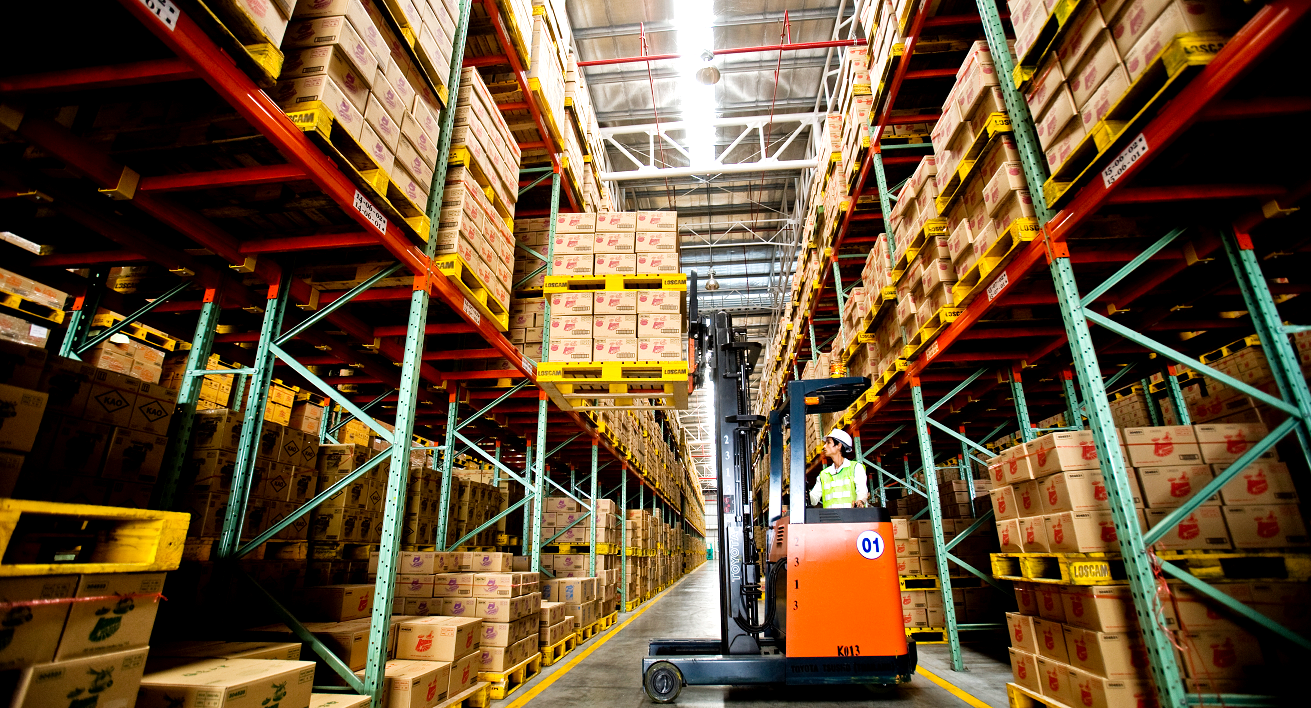 Standardised pallets through a systematic operation process, enables pallets to be circulated between upstream and downstream companies in the supply chain
1. Standardised pallets and Palletisation
Pallet pooling is a pallet system and network that is built by the pallet pooling service provider, who is responsible for leasing pallets to users to ship cargoes on the pallet from the shared pool. Provider takes care of the operation and maintenance of the pallet pool. That is by using standardised pallets through a systematic operation process, enables pallets to be circulated between upstream and downstream companies in the supply chain. The use of pallets extends from warehousing to transportation, in order to streamline logistics and distribution, and avoid the ineffective operation of repeatedly unloading goods during the order fulfillment process.
The Standardisation of pallets is a key component of pallet pooling. Pooling models require standardisation to include more than only a standard size of 1200mm x 1000mm, but also quality, materials, structure, tolerances, and parts, a healthy circulation in the supply chain only can be assured when the physical structure and quality level of the pooled pallets are completely equivalent.
To date, Loscam has set up 39 operation depots and more than 200 hire and dehire service centers in the Greater China region. With service coverage spanning all provinces and regions except Tibet, ensuring we can respond to the needs of our customers at anytime and anywhere.
There are two main pallet pooling models in Greater China, according to Scott Chi.
Firstly, there is the Loscam exchange pooling model, where pallets are exchanged between different users in the closed loop pooling system; Secondly, there is the modern pooling model, where different pallet rental accounts are set up for different customers, and each customer can hire or dehire pallets from Loscam. In the process of pallets being transferred from one customer to another, the pallet lease and corresponding liabilities are transferred simultaneously.
In addition, Loscam has three pallet management systems that were purpose-built to effectively promote pallets pooling:
First is the sorting and repair system, which is designed to inspect and repair the retrieved pallets, ensuring the pallet's quality and safety; second is the relocation system, which effectively allocates the pallets required by users in various places, and maintains inventory balancing in all Loscam's operation networks; And the third is the pallet Delivery & collection system, which is based on the pallet de-hires and issues, and gradually develops in the direction of integrating with the customer supply chain, sharing transportation resources, and improving vehicle utilisation.
These three systems have become the core competitiveness of Loscam to carry out pallet pooling solutions for the supply chain.
According to Loscam, the pallet pooling business in Greater China mainly serves the fast-moving consumer goods industry, including P&G, Unilever, Blue Moon, etc. in the upstream manufacturing field of the supply chain, and downstream retailers such as China Resources Vanguard, Wal-Mart, Yonghui, Carrefour, etc., as well as e-commerce platforms such as Alibaba and JD, food and beverage companies such as Coca-Cola, Danone, C'estbon, Tsingtao Brewery, Dongpeng, Jingtian, Yihai Kerry, etc., have also joined the pooling program.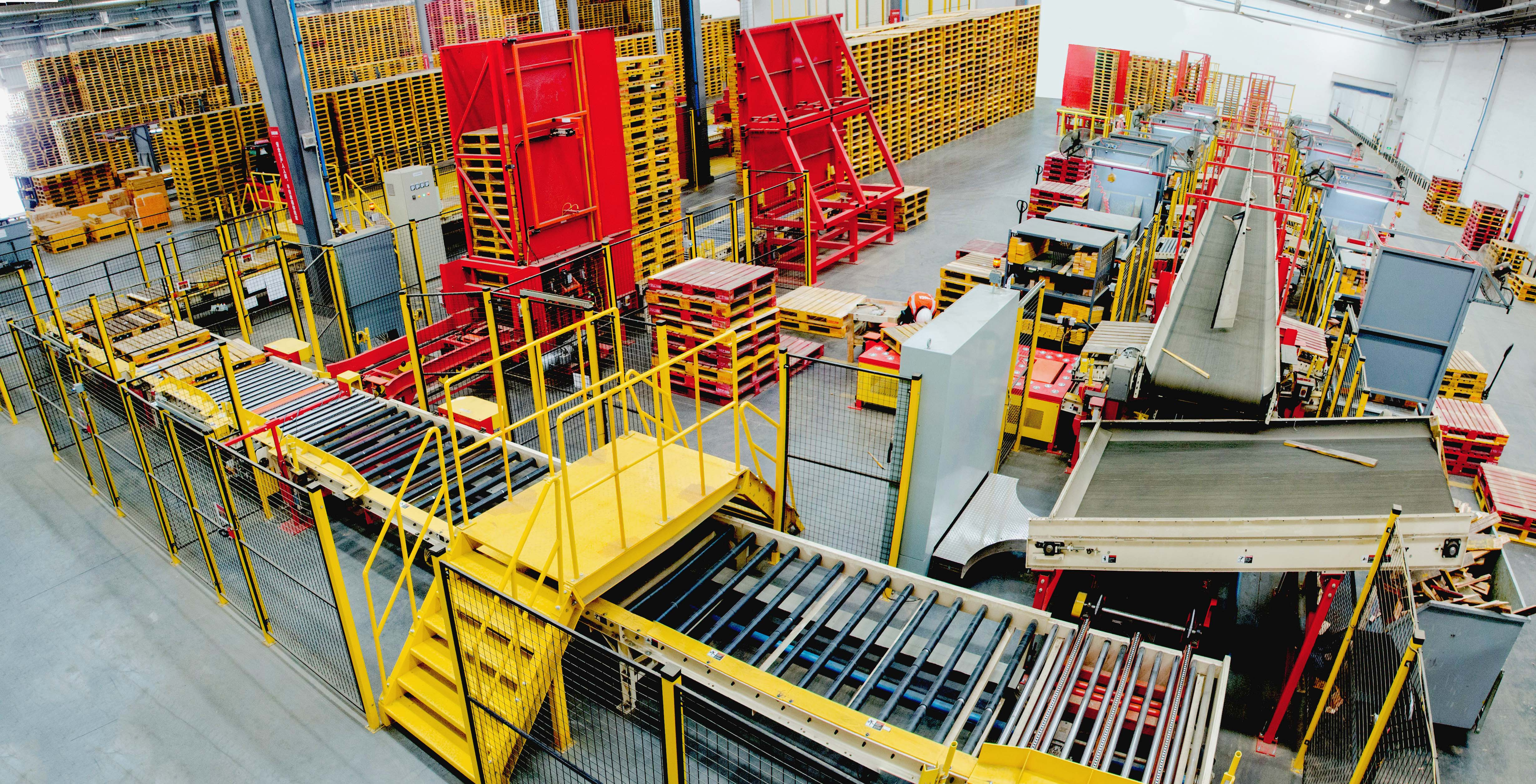 Loscam has three pallet management systems that were purpose-built to effectively promote pallets pooling
2. Fresh Produce Crates Pooling
The fresh produce crate model is to provide leasing solution service of standard size crates (600mm x 400mm flat size) to upstream and downstream enterprises in the supply chain and also provide standardised service in cleaning, maintenance, recycling, and system management.
Scott Chi states that for the Fresh Product Crates that Loscam promotes, it is available to offer Cross-province and long-distance pooling service for various types of customers. Manufacturers from the country of origin hire and ship the goods to distributors and de-hire the crates in the destination. By renting crates, customers can replace one-time packaging, and flexible rental solutions help customers cope with fluctuations during the low and peak season. At the same time, Loscam also provides customers with a full range of value-added management services. The professional team assists in on-site management, vehicle management, supplier receiving and dispatching management, data management, etc., as a result, customers will have less to worry about.
In Scott Chi's view, the concerns of the standardised fresh produce crates have raised by the industries due to varying needs in several aspects: First, the standardisation of fresh produce crates in the industry is not consistent, there are multiple sizes and specifications, and they are not compatible with each other. It is easy to cause product squeezing and damage during transportation, which affects logistics efficiency; second, the source of raw materials for packaging products is chaotic, and there are hidden food safety hazards; third, packaging bag is difficult to recycle, and some materials are difficult to degrade, causing environmental pressure; fourth, some fruits and vegetables are simply stacked into the trucks transported without packaging, resulting in huge wastage by redundant loadings and unloadings from framers to retail stores.
Scott Chi further elaborated, "under the pooling model, through standardised reusable plastic crate, fresh produce can achieve the 'one-touch journey' from the upstream country of origin to downstream end customers, to reduce the loss of fresh produces; green and environmental friendly by stop using one-time packaging, to save packaging costs and simplify handover procedures, reduce logistics costs, and greatly improve the efficiency of the entire supply chain, which is more in line with the sustainable development strategy."
At present, Loscam's fresh produce crates are widely pooling in a variety of fields, including hypermarkets, fresh food cold chain logistics, and Fresh food distribution of "community group buying platform". Furthermore, during the pandemic period, Loscam (Greater China) assisted a number of retailers with the "vegetable basket project" to secure non-staple food supplies in the communities and helped our customers in building flexible supply chains. Palletisation helps optimise the supply chain collaboration. The cost of land and labor in China is on the rise over the last few years along with other key factors like fuel prices and the toll level are tends to declined in the long run, which highlighted the value of palletisation. Especially in the field of fast-moving consumer goods, a growing number of industry giants have begun implementing businesses with palletisation both upstream and downstream of the supply chains.
Scott expressed that continuous optimisation of the supply chain is the core value of palletisation, "it plays as a bridge linking the entire supply chain, it improves the efficiency of loading and unloading operations, and omits multiple repalletising during the handling process, which remarkably saves cargo loading and unloading costs and shipments time, reduces the risk of loss or damage to the goods, speeds up the vehicle turnaround, and increase the utilisation rate of warehouse storage."
A good example of palletisation is one large food manufacturer in China, their entire logistic operation from rolling off the production lines to the distributors is in use of Loscam's palletised pooling solution. To compare with bulk handling operation, palletization is significantly efficient, particularly for loading, unloading, and transportation, it avoids multiple manual handling during numerous drop off points and different levels of logistics networks, greatly reduces damage to the goods and saves a lot of manpower and operation handling time.
It is worth mentioning that certain big retailers rely on Loscam's pallet pooling service, starting with palletisation, to in-depth integrate the supply chain's resources. Utilising the retailer's distribution resources, through palletization, retailers are able to in-depth integrate their supply chains by picking up palletized loads from the premise of their suppliers either through backhauls or through a "milk round" program. This enables retailers to replenish quickly and improve loading and unloading efficiency, at the same time also greatly reducing the supplier's transportation costs.
Standardisation and supply chain collaboration needs to be strengthened. At present, the application level of standard pallets in the country has been greatly improved, the pallet pooling system has been initially established, and significant progress has been made in reducing costs and increasing efficiency in logistics, which is important for reducing carbon emissions, reducing resource waste, and significantly contributing in protecting the global environment. However, in Scott Chi's view, the country's standard pallet pooling and palletised transportation level is still not above average, and there are still some bottlenecks to be broken through:
Firstly, standardisation infrastructure needs to be further strengthened. In recent years, the process of promoting pallet standardisation, highlighted the problem of inconsistent logistics operation standards and lack of cohesion among each link of the logistic management. Automation equipment has been increasingly used in each segment of the logistic chain and has their own design standards in recent years. Consequently, the problem of disconnection between chain standards has continued to occur throughout the entire supply chain, rendering standardisation and coordination even more difficult. Instead of introducing more different standards, Scott Chi believes that a unified logistics standard system should be established urgently.
Secondly, the need to further strengthen supply chain coordination. In Scott Chi's view, basically pallet pooling and palletised transportation are important manifestation of supply chain coordination. Supply chain coordination is actually more of a resource integration process. Even though the industry is actively advocating supply chain coordination at the moment, most upstream and downstream businesses focus on optimising their own logistics systems rather than integrating resources across the entire supply chain as a whole. As a result, it restricts further improvements in pallet pooling and palletised transportation.
Scott Chi concluded, "It is a high priority issue at the presence. Pallet pooling involves effective coordination of all sections in the supply chain, and palletised transportation itself is the end-to-end optimisation of the supply chain. Upstream and downstream enterprises in the supply chain must broaden their perspective and look at the big picture. Each of us examines the problem from the standpoint of the entire supply chain and pays close attention to resource integration. This is the only way to achieve '1+1>2', and as a result, pallet pooling and palletised transportation can deliver their full value."