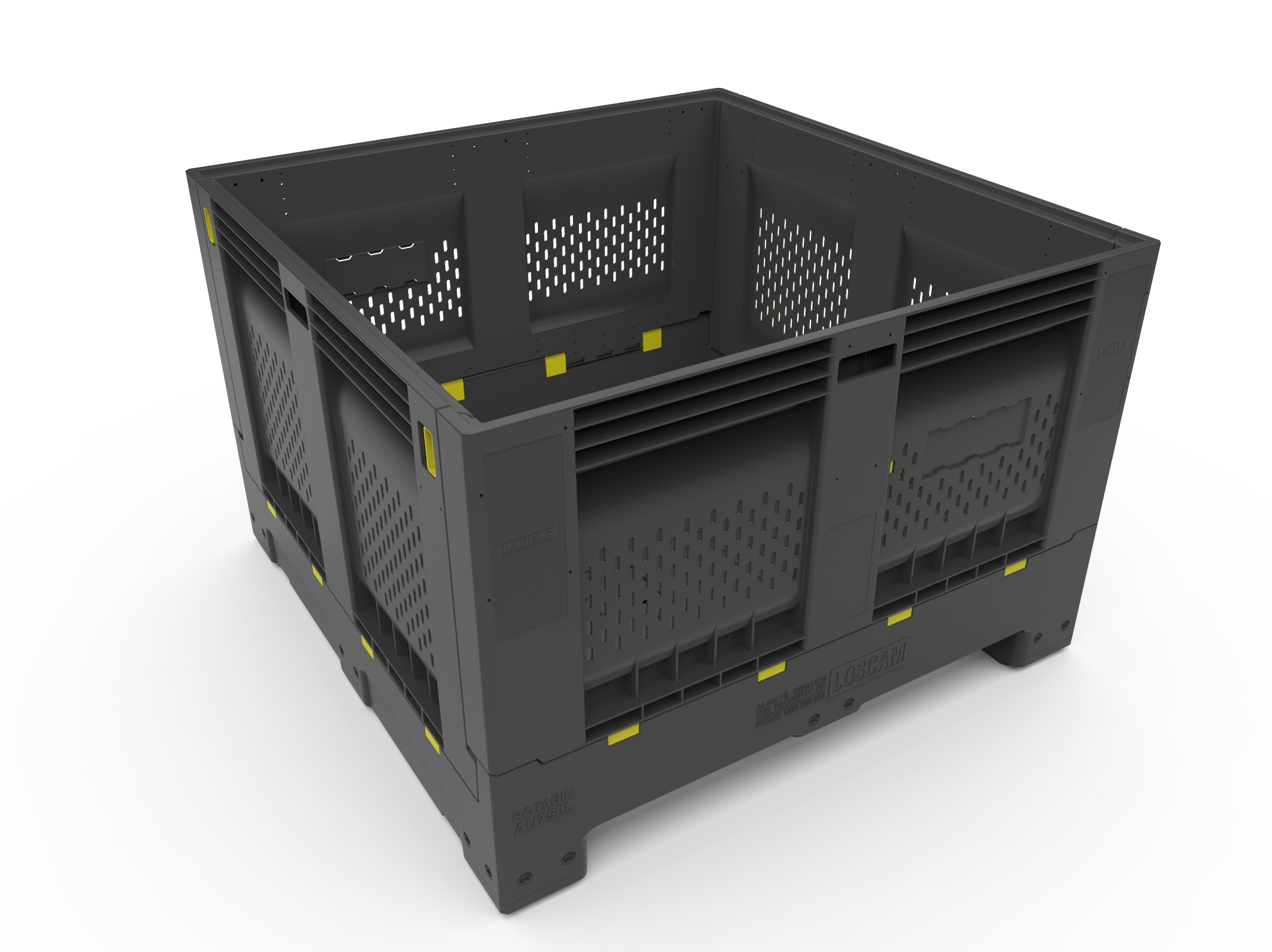 If there's one thing that underpins Loscam's vision and drives everything we do, it's a relentless determination to deliver our customers a "innovative and high quality" pooling solution. This passion to make things better was highlighted recently in the development of our new Foldable Bin, which was the result of a close collaboration with a key customer who had a problem that needed solving. With enhanced efficiencies slashing key operating costs to a third along sections of the supply chain, it's easy to see why this product is poised for success.
In times gone by, for any Loscam customer needing a foldable bin at some stage along its supply chain, they were limited by choice and the quality and capability of products available. But then something happened. One valued customer of ours came to us and explained that recent enhancements to their automation systems were crying out for a single supplier solution from start to finish.
"Well let's have a look" was our enthusiastic reply to their question.
The conversation that moved a market.
There began one of the most fruitful, productive, genuinely ground-breaking collaborations with a customer that we've ever had. Following close examination of all the elements in their supply chain, from produce profile to pallet footprint, we involved a leading manufacturer and developed one of the most efficient, strongest, safest, simplest to use foldable bins, decisively raising the bar in quality, at a cost so competitive it broke through the monopoly to deliver a whole new world of market choice.
Key to this product's future success has been the creation and design from the ground up in delivering a market changing solution. The reality is that our plastic bin range are exposed to all elements whether it be a blistering hot farmers field or a subzero temperature cool store. This requires our existing solid bin and our new foldable bin to show complete flexibility in their capability irrespective of environment and manner of use. This creates enormous challenges for the design team but one Loscam does not shy away from.
"How can a bin cause so much fuss?", we hear you ask.
Well for start, the specifications are finely tuned to customer requirements at every stage along the supply chain, and this inherently flexible product can be easily adapted to fit perfectly around what's needed by any organisation, in any industry, as we roll it out.
The Bin folds when not in use, slashing transportation and storage costs to as little as a third compared to the average. It's refreshingly forklift friendly, tailored around the Australian pallet footprint to ensure the simplest, safest transport and stacking. Drop gates add a new dimension to accessibility and stock control, while leading-edge design and finely tuned strength tests ensure all Australian safety and food contact standards are comfortably met, meaning our Foldable Bin can protect its contents in the hottest Australian days, and down to minus 20 degrees.
Put simply, this product offers our customers the ultimate in durability, flexibility and daptability, ideally suited across the whole range of goods from agribusiness to produce, to linen, retail, general merchandise and transport.
Understandably, the Foldable Bin makes management happy.
Daniel Bunnett, our Executive Vice President of Australia & New Zealand, has been proud to oversee the development of this concept from its inception. Sporting a smile just as big as our customer's, Daniel happily offered this commentary, "The launch of our new Foldable Bin is another excitingmilestone for Loscam in our mission to drive solutions across the region. More and more of our growing customer base is looking to Loscam in providing innovation, quality and choice in new packaging solutions.
The new Foldable Bin is a further example of Loscam driving a collaborative process between customer and manufacturer in pushing the best available solution to market. Loscam is more than just a pallet company and our growing product range, complimented with a deep rooted culture of prioritising our customers, will ensure our continued success."
FOLDABLE BIN FAST FACTS
Slashes costs. They collapse when not in use, reducing storage and transportation space requirements to as little as a third.
Forklift friendly. Forklifts were front of mind in design, we've mirrored the Australian pallet footprint for simple, safe, superior stacking.
Priceless convenience. Drop gates dramatically enhance ease of access and efficiency in stock control, also streamlining OHS process.
Premium protection. Leading edge design ensures produce is comprehensively protected in the hottest and coldest days.
Core flexibility. Specially designed to offer the ultimate in durability, flexibility and adaptability, ensuring ideal suitability across all categories.